BYCANAAN 
3 Further, my brothers and sisters, rejoice in the Lord! It is no trouble for me to write the same things to you again, and it is a safeguard for you. 2 Watch out for those dogs, those evildoers, those mutilators of the flesh. 3 For it is we who are the circumcision, we who serve God by his Spirit, who boast in Christ Jesus, and who put no confidence in the flesh— 4 though I myself have reasons for such confidence.
If someone else thinks they have reasons to put confidence in the flesh, I have more: 5 circumcised on the eighth day, of the people of Israel, of the tribe of Benjamin, a Hebrew of Hebrews; in regard to the law, a Pharisee; 6 as for zeal, persecuting the church; as for righteousness based on the law, faultless.
7 But whatever were gains to me I now consider loss for the sake of Christ. 8 What is more, I consider everything a loss because of the surpassing worth of knowing Christ Jesus my Lord, for whose sake I have lost all things. I consider them garbage, that I may gain Christ 9 and be found in him, not having a righteousness of my own that comes from the law, but that which is through faith in[a] Christ—the righteousness that comes from God on the basis of faith. 10 I want to know Christ—yes, to know the power of his resurrection and participation in his sufferings, becoming like him in his death, 11 and so, somehow, attaining to the resurrection from the dead.(Philippians 3:1-11)
The Apostle Paul wrote, " Rejoice in the Lord " (verse 1a). Joy is the key word in the Book of Philippians. It appears 17 times in this short letter. Being happy (laughing) is good for our health. It is said that the immunity is going up. And rejoicing is also "for our safety" (verse 1b). Joy removes anxiety and gives peace to the mind, and peace of mind protects the body from stress.
Paul wrote, "I am glad(1:18)." Why was Paul in prison able to rejoice? It wasn't in the form or way that Paul wanted, but the gospel was being preached anyway. But in this 3rd chapter, he writes strictly to guard against heretical teachings. Why? This is because, unlike in Chapter 1, the gospel was not spoken correctly.
Even if their motives were bad or unholy, Paul could rejoice if the content of the gospel was told correctly. However, when the content of the gospel is distorted, it is strictly warned. He uses 3 expressions. "Dog" "Bad worker" "Physically circumcised"
Dogs are very popular in Japan, but in Jewish society at the time, they were considered the most vile and unclean animals. Speaking now, perhaps "hyena" might come to mind.
Other Torah (Jewish) believers claimed that one could not be saved without circumcision. Circumcision is the removal of the foreskin of the male genitalia. They taught that while it may be important to believe, in order to be saved, we must obey the laws represented by the Ten Commandments of Moses. A typical example is circumcision. That teaching must have entered the Philippian church. Hearing this, Paul warned them to be careful. The Jews were circumcised as a sign of the covenant. People always rely on what they can see. It is easy to create visible idols. Their characteristic is that they value the outside more than the inside. It's a religion, it's a ritual. But what really matters is what's inside. As the Bible says, " Man looks at the outward appearance, but the Lord looks at the heart ."
For those who value the outside, Paul taught that just believing in them will save them. He must have taught like that when he founded the Philippian church. However, after Paul left, a different teaching from what Paul had taught entered the church, causing confusion in the church. One of the important teachings of our Protestant churches is that salvation is by faith only. It is not circumcision, but salvation is not conferred by any ritual, religious act, or good deed. Even if these human actions seem good, they are imperfect and cannot reach God. Therefore, the perfect Jesus came down from heaven, died on the cross in place of our sins, and rose again three days later. People can be saved just by believing in Jesus. But perhaps we humans feel that something is lacking, so we try to add various things to the conditions for salvation. As they circumcised salvation.
Paul said, "Christians are uncircumcised physically, but spiritually they are circumcised and have made a covenant with God. True circumcision is the work of the Holy Spirit in the heart, It is to eliminate sin and evil." A Jew in appearance is not a Jew, and circumcision in the appearance of the body is not circumcision. Rather, the hidden Jew is the Jew, and the circumcision of the heart, not of letters, but of the Spirit is circumcision. That honor comes from God, not from men. (Romans 2:28,29) 
Paul writes. We who worship by the Spirit of God, who boast in Christ Jesus, and who do not rely on human things, are the circumcised (v. 3). The same is true today. Heresy abounds. And it confuses the orthodox church and misleads Christians. Weu have to be careful.
These were big problems in the early church. So they held a leadership conference in Jerusalem. The conclusion is recorded in Acts 15:1-11. Salvation is only by God's grace and faith. Christians were confirmed to be free from the old circumcision. This is a problem that was solved 2000 years ago.
15 Certain people came down from Judea to Antioch and were teaching the believers: "Unless you are circumcised, according to the custom taught by Moses, you cannot be saved." 2 This brought Paul and Barnabas into sharp dispute and debate with them. So Paul and Barnabas were appointed, along with some other believers, to go up to Jerusalem to see the apostles and elders about this question. 3 The church sent them on their way, and as they traveled through Phoenicia and Samaria, they told how the Gentiles had been converted. This news made all the believers very glad. 4 When they came to Jerusalem, they were welcomed by the church and the apostles and elders, to whom they reported everything God had done through them.5 Then some of the believers who belonged to the party of the Pharisees stood up and said, "The Gentiles must be circumcised and required to keep the law of Moses."
6 The apostles and elders met to consider this question. 7 After much discussion, Peter got up and addressed them: "Brothers, you know that some time ago God made a choice among you that the Gentiles might hear from my lips the message of the gospel and believe. 8 God, who knows the heart, showed that he accepted them by giving the Holy Spirit to them, just as he did to us. 9 He did not discriminate between us and them, for he purified their hearts by faith. 10 Now then, why do you try to test God by putting on the necks of Gentiles a yoke that neither we nor our ancestors have been able to bear? 11 No! We believe it is through the grace of our Lord Jesus that we are saved, just as they are." (Acts 15:1-11)
The Jews were proud of themselves, but Paul writes that they should not rely on human things. Paul used to rely on them too. Paul insists on excellence in the human thing, both in the natural lineage and in the upbringing career. He lived a life second to none in keeping the law. In addition to his excellent pedigree (kinship) and good blood (lineage), Paul had a fine education and discipline.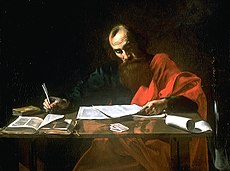 Paul writing
He lists seven. ①~④ are innate, congenital. ⑤~⑦ are acquired as he grows up, and is acquired.
① He was circumcised on the eighth day, showing that Paul was a pure Jew. Jewish males were circumcised on the eighth day after birth. Paul was a genuine Jew while the number of Jews in the pure sense was decreasing due to mixed blood due to marriage with other races.
② It expresses that Paul belongs to the people of the covenant, the people chosen by God who belong to the Israelites.
③ The tribe of Benjamin It was the tribe of Benjamin that produced King Saul , the first king of Israel. It was famous.
④ Hebrews were Hebrew-speaking Jews. It's not like a Jew who lives in a foreign country and speaks Greek.
⑤ Regarding the law, the Pharisees were the strictest faction among the Pharisees. Paul studied under Gamaliel. (Acts 22:3)
⑥Its zeal persecuted the early Christians, who were called Nazarenes, so much that he persecuted the church.
⑦ As far as the righteousness of the law is concerned, those who are not condemned were trying to live righteously.
Paul did not write these things to boast about himself. "If I want to boast about human things, I can boast. I can boast more than you. Therefore, I came to think of it as a loss," Paul declares. His value judgment has changed. Why was his value judgment completely changed? It is because Paul met Jesus Christ while he was persecuting Christians on the road to Damascus.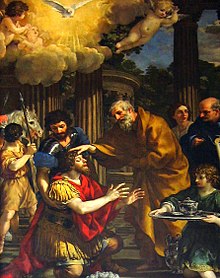 Paul's conversion
From the perspective of others, Paul was an object of admiration. But after Paul met Jesus and was converted (saved), he experienced more and more that his former pride had faded. Year after year Paul came to know the wonders of Christ (v. 8).
One's righteousness in the law does not save a person. We can't get salvation by relying on anything human. Man's efforts cannot save man. Paul was blameless in the eyes of others, but he was imperfect in God's eyes. He knew that best. I don't know what I am doing. For I am not doing what I want, but what I hate (Romans 7:15). I am a very miserable person. Who will deliver me from this body of death (Romans 7:24) ?
Paul "got Christ" into his life (v. 8). He experienced the splendor of not having his own righteousness according to the law, but having "righteousness through faith in Christ" and "righteousness given by God based on faith" (verse 9). By circumcision by the Spirit, the pride of the flesh had been cut off.
Paul also learned the power of the resurrection (verse 10). We, too, die in the old and partake in a new life. We also come to know that, like Paul, we share in Christ's sufferings. It is to be in the same state as Christ's death. A way of life that bears one's cross is sought. We can see it in Jesus' prayer in the Garden of Gethsemane. Deciding to die to himself and live to God's will, Jesus walked the way of the cross. And Jesus rose from the dead three days later. After going through suffering, the cross, and trials, we too can experience the power of the resurrection (v. 11). I think the Christian life is to experience the cycle of death and resurrection. We may partake of suffering, trials, and death, but we will reach resolution, life, and resurrection. There is our hope.
Things on this earth pass away. But Jesus Christ is the same yesterday, today and forever. There are many valuable things on this earth. Paul used to boast of those things. But when he met Jesus, his values ​​completely changed. Paul could say that these things are dust in comparison with Jesus Christ.
However, Paul's bloodline, career, and learning were not wasted. They were sanctified and used for the glory of God. He was well versed in the law and could speak Greek, the lingua franca of the day, which helped him write letters, build the church, and evangelize the world. Jesus Christ Himself is of tremendous and amazing beauty and worth. We want to further pursue, know and experience Jesus Christ Himself.
Sponsored Link