BYCANAAN
We Christians died with Christ and rose with Christ. The old man died and became the new man. If we are resurrected, seek what is above. Think of what is in heaven. If we die on the cross (3:3), the Bible commands us to put off our old things (3:8).
5 Put to death, therefore, whatever belongs to your earthly nature: sexual immorality, impurity, lust, evil desires and greed, which is idolatry. 6 Because of these, the wrath of God is coming. 7 You used to walk in these ways, in the life you once lived. 8 But now you must also rid yourselves of all such things as these: anger, rage, malice, slander, and filthy language from your lips. 9 Do not lie to each other, since you have taken off your old self with its practices 10 and have put on the new self, which is being renewed in knowledge in the image of its Creator. 11 Here there is no Gentile or Jew, circumcised or uncircumcised, barbarian, Scythian, slave or free, but Christ is all, and is in all.(Colossians 3:5-11)
If we die in the old life and live in the new life, let go of the bad. recommends the Bible. 5 bad things will come out twice. At first, it is written as something that Christians have already overcome and resolved (verse 5). The second is what we must now put aside (v. 8).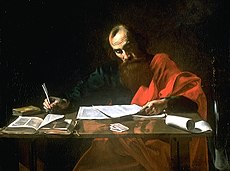 Paul writing
We used to walk in a way that displeases God and incurs His wrath. That is, we were the old man (verse 9). The old man is the pre-saved nature, the nature of Adam. It's what we are born with. Basically, people are insensitive to sin. Last year was Ayako Miura's 100th birthday, and she wrote in her autobiography, Michi Ariki. "I think the greatest sin is insensitivity to sin, " she said.
But now, by God's grace, we are made "new self" (v. 10). When we believed in the Lord Jesus, when we were baptized, we died as an old man and was born again as a new man. The new man is the nature that is in Jesus Christ. We were clothed in righteousness. God provided a garment of skin for Adam, who sinned. It shows that animals have been sacrificed. The animal may have been a sheep. It foreshadows the Lamb of God, Jesus Christ.
We are called by God to take a new step. But if we're not careful, we'll revert back to the old person. The Israelites who fled Egypt wanted to return to Egypt. They were about to return to the world of sin, the state of slavery.
Therefore, in the Christian life it is always important to cast off the old. Because we cannot put on the new without putting off the old. This was the case with the prophet Elisha in the Old Testament. In 2 Kings 2:12-14 of the Old Testament it is written like this. 12 When Elisha saw this, he cried out, "My father, my father, the chariots and horsemen of Israel!" So he grabbed his garment and tore it in two. 13 Then he picked up Elijah's cloak that had fallen off him, and turned back and stood by the Jordan River. 14 He took Elijah's cloak from him and struck the water, saying, "Where is the Lord, the God of Elijah?" He also struck the water, and the water was divided on two sides, and Elisha crossed over.
Elisha asked for two shares of Elijah's spirit when his master Elijah ascended to heaven. He asked for twice as much anointing as Elijah. This is to take over his birthright, the ministry of Elijah. But in order to receive it, he first had to take off his clothes, throw away his old self. Elisha wanted Elijah's cloak. This may resemble Moses' staff. It looks like an ordinary cloak, but it's not. It was filled with something special. Elisha experienced this when he first met Elijah. Elijah only put on Elisha's cloak as he passed by (1 Kings 19:19). It is believed that this was a cloak worn only by prophets. Elisha wanted Elijah's cloak anyway. The time has finally come. Elijah ascends to heaven. Elisha took hold of his own garment and tore it in two. So what happened? Elisha was able to receive the cloak that had fallen from Elijah's body. Here old Elisha died. The old Elisha died and he became the "new man." Twice as many miracles as Elijah happened in his ministry.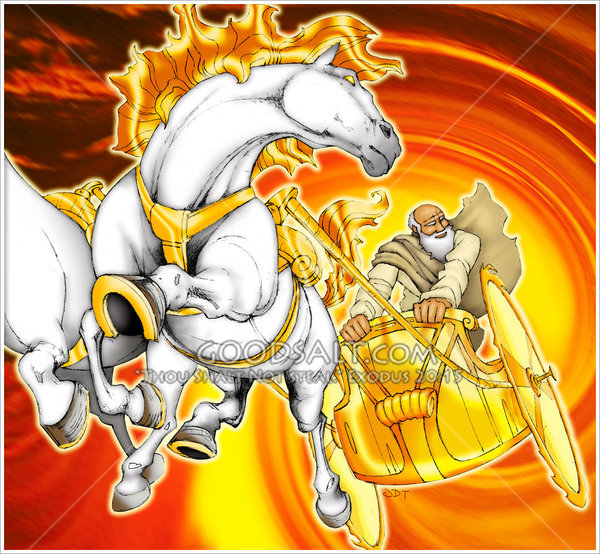 Elijah and the chariot of fire
Now, we are walking as "new self". Instead of becoming the new self, we are already a new person. We do not become the light of the world, we are already the light of the world. And the new man will be made more and more new in the image of his Creator, and will come to true knowledge (v. 10). We will be further sanctified from now on, and at last the "image of God" will be restored.
Adam sinned and lost the "image of God." All humans are like that. But the last Adam, Jesus Christ, came to this earth to save mankind. Through the Lord Jesus, we are being restored to the "image of God" that we have lost. However, we were not fully recovered. Our sins have been forgiven. But we will commit sins. Reformer Martin Luther said, " Christians are sinners and righteous at the same time ." We are forgiven sinners.
The first man, Adam, was created "in the image of God" (Genesis 1:26,27). This is where the human form is shown. Adam and Eve, who had a good and wholesome relationship with God, were breathed with the breath of life, were created as living beings, and were placed in the Garden of Eden to rule the earth, for the glory of God. They were given a mission to work.
It has been destroyed by sin. The "image of God" has been broken. His relationship with God was distorted, he became lifeless and mortal, acting on his own judgment and living for his own glory. Here is the old man.
From that moment on God's work of restoration began. The climax is the crucifixion and resurrection of the Lord Jesus. Man's relationship with God was broken and severed, but he was given reconciliation with God by His Son, Jesus Christ. He has become a new person. The Bible (2 Corinthians 5:17) declares: If anyone is in Christ, he is a new creation. Old things have passed away, and behold, all things have become new.
Through the cross and resurrection of Jesus Christ, the "image of God" is restored. It is the work of the Holy Spirit that is necessary for the restoration of the "image of God" to go further toward perfection. By the Holy Spirit, we are further restored to "the image of God" and transformed into the likeness of Christ. and come to true knowledge. True knowledge is Jesus Christ Himself. It is not worldly, earthly knowledge. Nor is it gnostic, heretical knowledge. It is the Lord Jesus who is true knowledge. In Christ are hidden all the treasures of wisdom and knowledge (2:3). Christ is everything (v. 11).
We are already made "new" through Jesus Christ. Shedding the old and putting on the new. However, we must know that there is a force at work that pulls us back into the old self. As "new self", we are expected to take new steps. For that, we have to throw off our old self. So was Elisha. Then we can receive the new things that God has for us. We can become a new person.
I just saw Elisha in the Old Testament, and lastly, I would like to see the faith of Bartimaeus, the blind man in the New Testament. Mark 10:46-52 says this. 46 Then they came to Jericho. As Jesus and his disciples, together with a large crowd, were leaving the city, a blind man, Bartimaeus (which means "son of Timaeus"), was sitting by the roadside begging. 47 When he heard that it was Jesus of Nazareth, he began to shout, "Jesus, Son of David, have mercy on me!"48 Many rebuked him and told him to be quiet, but he shouted all the more, "Son of David, have mercy on me!"49 Jesus stopped and said, "Call him." So they called to the blind man, "Cheer up! On your feet! He's calling you." 50 Throwing his cloak aside, he jumped to his feet and came to Jesus. 51 "What do you want me to do for you?" Jesus asked him. The blind man said, "Rabbi, I want to see." 52 "Go," said Jesus, "your faith has healed you." Immediately he received his sight and followed Jesus along the road.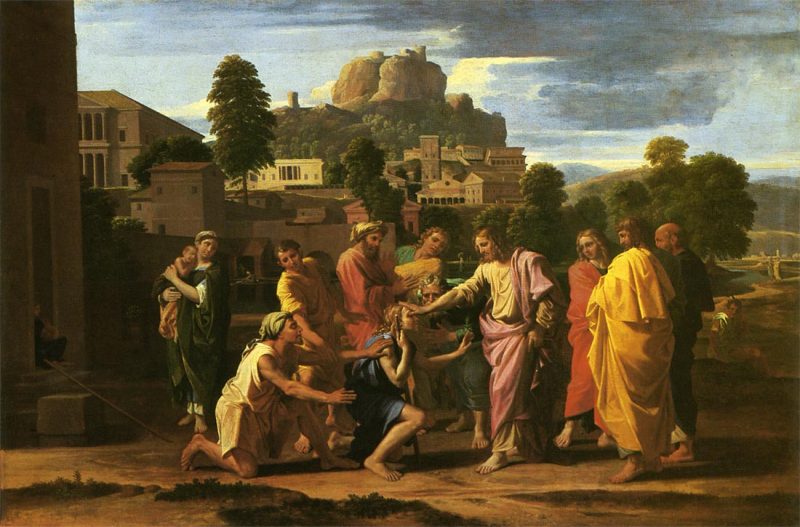 Nicolas Poussin "Christ Healing the Blind Man of Jericho)"
Bartimaeus took off his coat, which was the mark of a blind man. He got alms because he wore this. But he decided that he was going to change, and he was prepared to break with his past self and his current self. We can see Bartimaeus' faith here. He received healing through Jesus Christ and was able to become a new person and take a new step.
We are already new self, but let us put off the old day by day, and put off what is not pleasing to God. And we would like to be renewed all the time and be transformed more and more into the likeness of Jesus Christ by the work of the Holy Spirit.  
Sponsored Link