Jesus said "It is finished" before he died on the cross. It is a cry of victory that salvation has been accomplished by fulfilling all the Messianic prophecies of the Old Testament.
The Death of Jesus
28 Later, knowing that everything had now been finished, and so that Scripture would be fulfilled, Jesus said, "I am thirsty." 29 A jar of wine vinegar was there, so they soaked a sponge in it, put the sponge on a stalk of the hyssop plant, and lifted it to Jesus' lips. 30 When he had received the drink, Jesus said, "It is finished." With that, he bowed his head and gave up his spirit. (John 19: 28-30)
Religion says, "Do this. Do that." But the gospel (good news) says it has already been done. Religion is an effort from bottom (earth, human) to top (heaven, God). But the gospel is the opposite, from top to bottom. From heaven to earth, from God to humans. So all we do is thank and receive the work of Jesus' cross that has already been accomplished and completed. This is a one-sided grace from God. Through the cross we receive forgiveness of our sins and obtain eternal life and salvation.
The cross is a victory. It looks awkward, stupid, and defeated to humans. But this is God's wisdom. Paradoxically, the gospel is that we lose but we win, and the weak are strong. It may look stupid to a human. But death brings life.
The Bible says. 21 For since in the wisdom of God the world through its wisdom did not know him, God was pleased through the foolishness of what was preached to save those who believe. 22 Jews demand signs and Greeks look for wisdom, 23 but we preach Christ crucified: a stumbling block to Jews and foolishness to Gentiles, 24 but to those whom God has called, both Jews and Greeks, Christ the power of God and the wisdom of God. 25 For the foolishness of God is wiser than human wisdom, and the weakness of God is stronger than human strength. (I Corinthians 1: 21-25)
9 But he said to me, "My grace is sufficient for you, for my power is made perfect in weakness." Therefore I will boast all the more gladly about my weaknesses, so that Christ's power may rest on me. (II Corinthians 12: 9, 10)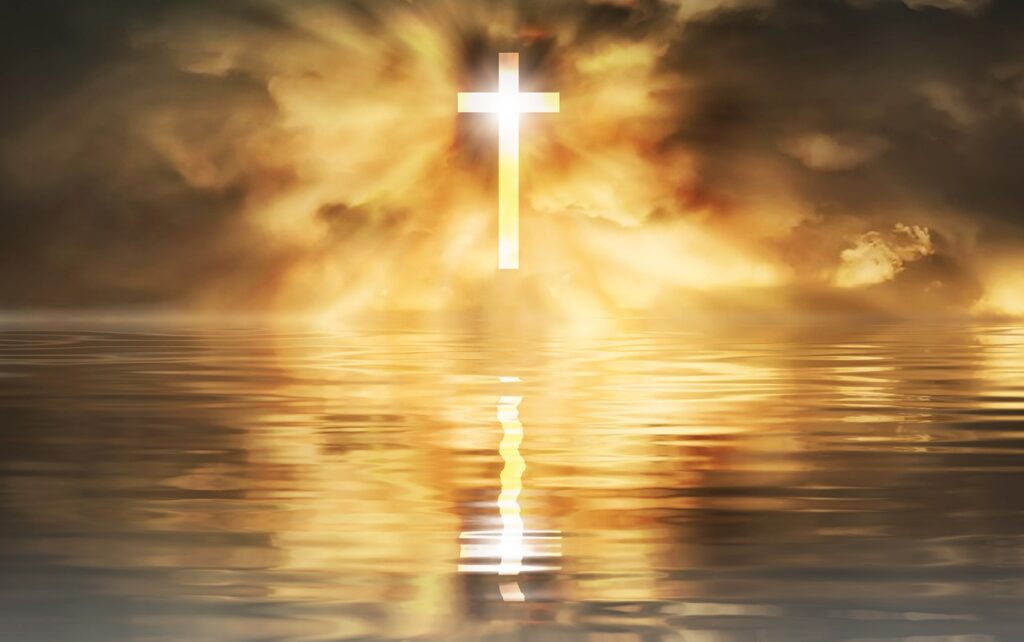 " I am strong when I am weak " This is the essence of Christianity. When Jesus was the weakest, he had the greatest victory on the cross.
We can meet God only when we are weak. When we are strong, when we are doing well, I think we tend not to rely on God and pray. This makes it difficult for us to experience God's work. But when we are weak and when we are in adversity, we will rely on God and pray, and as a result, we will be able to experience God's works. This is God's method.
I remember Dr. Hinohara was talking about "getting by losing. He is a Christian, he said this. "At the age of 21, I got sick and was bedridden for eight months, which was a valuable experience for me to work as a doctor. People who become doctors should get a big illness, I think. I can understand the feelings of the sick. "
It is example that weakness is a benefit and a blessing.
The Burial of Jesus
38 Later, Joseph of Arimathea asked Pilate for the body of Jesus. Now Joseph was a disciple of Jesus, but secretly because he feared the Jewish leaders. With Pilate's permission, he came and took the body away. 39 He was accompanied by Nicodemus, the man who earlier had visited Jesus at night. Nicodemus brought a mixture of myrrh and aloes, about seventy-five pounds.[a] 40 Taking Jesus' body, the two of them wrapped it, with the spices, in strips of linen. This was in accordance with Jewish burial customs. 41 At the place where Jesus was crucified, there was a garden, and in the garden a new tomb, in which no one had ever been laid. 42 Because it was the Jewish day of Preparation and since the tomb was nearby, they laid Jesus there. (John 19: 38-42)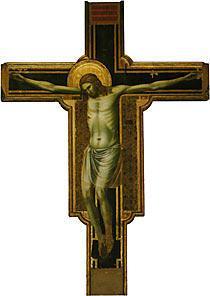 "Christ on the Cross" / Giotto di Bondone (1267 – 1337)
The cross has had a great impact on people. I would like to see three people.
① Centurion   
37 With a loud cry, Jesus breathed his last. 38 The curtain of the temple was torn in two from top to bottom. 39 And when the centurion, who stood there in front of Jesus, saw how he died, he said, "Surely this man was the Son of God!" (Mark 15: 37-39)
The Roman centurion was looking at Jesus' cross much closer. When Jesus said he was "it is finished" and saw the curtain tear, he said, "He was truly the Son of God ." This is his confession of faith. Through experiencing the cross, he was able to believe Jesus as the Savior.
② Joseph of Arimathea      
Joseph of Arimathea was a disciple of Jesus, but he was afraid to hide it. As a hidden Christian, Joseph was deeply move when he saw Jesus on the cross. This is the influence of the death of the cross. Joseph decided to do something that no one dared to do, and took action. Taking the body of Jesus off the cross and burying it in the tomb. This was very courageous and could not be done without a great deal of preparedness. He was a member of the Sanhedrin (like a Japanese parliamentarian), but there was a great chance that he would lose his position through this. It was obvious that he would put himself in a dangerous position. But he put his faith into action. He offered the tomb he had prepared for him for Jesus. He made his faith public. It used to hide faith, but it was changed by the cross and now it is expressing faith. This is the power of the cross.
Joseph was given a revival of faith. Faith was restored and burned. The cross of Jesus shocked and changed him. He was changed by the cross and stood up for Jesus. He was transformed into a victorious Christian life.
We also want to be like Joseph who can be changed through the cross. We would like to take risks and firmly express our faith, rather than just looking at the cross as another person like a crowd.
③ Nicodemus
He came with a mixture of myrrh and aloe. He helped with the burial. He used to hide and came to Jesus at night (John 3: 1-3). But now it's daytime. Nicodemus was also changed by the cross. Through the cross, he would have had a new birth experience. Or he may have experienced a revival of faith like Joseph. Nicodemus also was a member of the Sanhedrin, but he took the risk and came in the afternoon.
He had previously heard the Word from Jesus and had been sowed seeds in his heart. I don't think it sprouted immediately, but the seed (the Word of God) has life and power, so God continued to work in his heart and finally sprouted. He would have gone to Calvary Hill when he heard that Jesus was crucified. He may have witnessed Jesus crucified there. Jesus was praying on the cross, "Please forgive them." Instead of curses and hatred, the words of love and forgiveness were spoken. I don't think Nicodemus could understand everything, but when he looked up at Jesus' cross, he was able to receive salvation. Through the work of the Holy Spirit, he was able to understand what he had never known before to be born again.
Then he appeared with the myrrh he had prepared for the burial. He could have been afraid to wait till night, but that wasn't in time for the burial.
The law says: 22 If someone guilty of a capital offense is put to death and their body is exposed on a pole, 23 you must not leave the body hanging on the pole overnight. Be sure to bury it that same day, because anyone who is hung on a pole is under God's curse. You must not desecrate the land the Lord your God is giving you as an inheritance. (Deuteronomy 21: 22-23)
In Judea, the day begins at 6 o'clock at sunset. Jesus died at 3 pm, so they didn't have much time left. Within a few hours, they had to remove Jesus' body from the cross and bury him in the tomb. Under such circumstances, Nicodemus expressed his faith in action and cooperated with Joseph of Arimathea.
The cross may appear defeated to the human eye. But that is not the case in God's eyes. This is a victory. What we see as defeat is transformed into victory through the cross.
Through the cross, we will be guided to a confession of faith (salvation) like a Roman centurion. Also, through the cross, we will be led to the revival of faith like Joseph and Nicodemus. The cross has brought us a new departure. By looking up at the cross, we too are given victory and can make a new departure.
Sponsored Link




FacebookTwitterLineshareGospelJoseph of Arimathea , Giotto , Nicodemus
Posted by: canaan
I used to be a pastor in the metropolitan area for 10 years, but now I am a pastor at a local Christian church. I also run a travel agency and a farm. I myself have been empowered by various words, and I would like to convey hopeful words.
Post navigation
Your email address will not be published. Columns marked with * are required items
comment
Name *
Email *
site
Save your name, email address, and site in your browser for future comments.
Please enter the characters displayed above.
search:
Recent posts
recent comments
archive
Category
Meta information
Category
© Copyright 2021 the year of the word forceRara Academic |. Developed By Rara Theme . Powered By WordPress .