BYCANAAN
The letter to the Ephesians is one of the letters that the Apostle Paul wrote while in prison. Four prison letters written by Paul are recorded in the Bible. Ephesians, Philippians, Colossians, and Philemon. These are the letters Paul wrote from prison to the churches (individual). It was written by Paul, who was in prison and suffering because he preached the gospel of Jesus Christ.
The theme of Philippians was "Joy". Colossians was written against the issue of heresy, but the result is excellent Christology. The subject of Colossians is Christ, the "Head of the Church," whereas the subject of Ephesians is the Church, the "Body of Christ."
1 Paul, an apostle of Christ Jesus by the will of God, To God's holy people in Ephesus, the faithful in Christ Jesus: 2 Grace and peace to you from God our Father and the Lord Jesus Christ. 3 Praise be to the God and Father of our Lord Jesus Christ, who has blessed us in the heavenly realms with every spiritual blessing in Christ. 4 For he chose us in him before the creation of the world to be holy and blameless in his sight. In love 5 he predestined us for adoption to sonship through Jesus Christ, in accordance with his pleasure and will— 6 to the praise of his glorious grace, which he has freely given us in the One he loves. (Ephesians 1:1-6)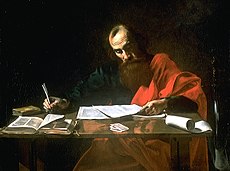 Paul writing
This letter was written by Paul to the Ephesian church (verse 1). Paul introduces himself. He is made an apostle by the will of God. According to God's plan, he is made an apostle. I think this awareness is very important. A sense of mission is born here. It seems that there are many people in Japan who do not know why they are alive. Sadly, there are cases of people committing suicide if they do not understand the meaning of life. According to the theory of evolution, human existence would be a product of chance. But we believe in God's creation. God planned and created us. So knowing that our life has a purpose, we can be sure that we are living according to God's will. That awareness gives us the power to live and the power to overcome hardships.
Paul means "little" in Latin. Paul's original name was Saul. This is probably because his parents wanted him to be a great figure like King Saul, who was the first king of Israel, because both King Saul and Paul were from the tribe of Benjamin. I believe that Saul lived for that purpose, and it actually became that way, but when he met Jesus Christ on the road to Damascus, he realized that he was not a big one, but a "small one." changed his name from Saul to Paul. Paul says he is a little one, but he also introduces himself as an apostle of Christ Jesus, the messenger of the king's message. An apostle means one who is sent, but it is written that he was sent by Jesus Christ, the King of kings, and that he was entrusted with a message from Jesus Christ.
The letter was received by the Church of Ephesus. The gospel of Jesus Christ was preached to the city of Ephesus because the apostle Paul visited it on a missionary journey. It's the 50's AD, 20-30 years after Jesus Christ ascended to heaven. It is written in Acts 18-19. Ephesus was the central city of the region. present-day Turkey. The letter to the Ephesians was written several years after he preached in the Ephesian church and built the church (around A.D61).
Grace and peace be upon you from God our Father and the Lord Jesus Christ (v. 2). "Grace" is something that is given unconditionally. It is the love of God that is bestowed upon those who do not deserve it.
In the 18th century, English sailor John Newton was involved in the slave trade and was far from God until his ship was caught in a storm and his life was in danger. He prayed desperately, was miraculously saved, and was converted through the event. He repented, changed his mind, turned around, and believed in Jesus Christ. He wrote the famous "Amazing Grace". God has seen and blessed those who are undeserving like myself. What marvelous grace of God have I received. He wrote the lyrics while appreciating this as a hymn to God.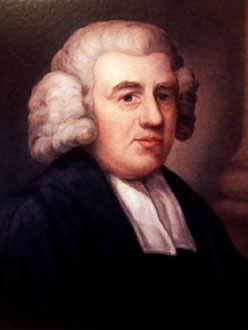 John Newton
So is Paul. Paul persecuted the church and Christians and was far from Jesus Christ, but God intervened in his life. This is God's grace. Paul prayed that the same grace would be upon each member of the Ephesian church. He also prayed that if they were filled with anxiety, they would be given peace.
Peace is "shalom" in Hebrew. Shalom means much more than just peace. Peace, security, prosperity, health, salvation, victory, etc. Shalom is used morning, noon, and night to greet people in Israel. When I exchange emails, there are people who write shalom. I also use shalom from time to time, which is one of the best ways to congratulate someone.
Paul writes in verses 3-14 what the Trinity God is to the church and to Christians. Here we will look at the Father God described in verses 3-6, and here we can see the love of God the Father.
We have been given spiritual blessings in Christ (verse 3). To be "in Christ" means to have a personal fellowship with the Lord Jesus. I believe there are many blessings. Health is sustained, economies are protected, homes and jobs are celebrated. We have peace in our heart. This is great. But the greatest blessings are "spiritual blessings in heaven." Let's see three.
① Chosen
It says that we were chosen before the creation of the world (verse 4). It's so amazing, it's hard to imagine. God's choice is amazing. We were chosen by the one-sided grace of God. We didn't do anything special to be acceptable to God. We were just chosen. Paul felt it. He was a persecutor of the church. He seemed to be a far cry from God's election, but God's election saved him and turned him into a preacher of Jesus Christ, whom he had previously persecuted.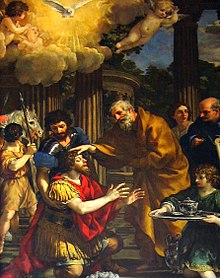 Paul's conversion
Choice is tied to predestination. Someone say. "Then God decides everything in my life?" But I don't think so. Because humans have free will. Since Paul was given free will, he would have been free to refuse to fulfill his apostolic mission.
I believe that we too have the freedom not to respond to God's choice. But that's a waste. God's choice is very good. It's a privilege. God chose us because he wants to bless our lives. Never to make us unhappy.
Jesus said to his disciples. You didn't choose me. I have chosen you and appointed you (John 15:16). We may think we believe in Jesus Christ, but we don't. God chose each one of us. Why? To pour out spiritual blessings in Christ.
②Forgiveness of sins
God makes us stand holy and blameless before Him (v. 4). We were sinful, blemished, and unclean. However, he was made sinless, without blemish, and holy = saints (verse 1). A saint means one who is set apart for God. We are set apart from this world, from the world of sin, from the devil's dominion. And become more and more sanctified.
Earlier we saw three things that sanctify us. Spirit, water and blood (reference: canaan.blog/renewal-new-start/). We are sanctified by the work of the Holy Spirit and by water (the Word of God). and blood. We are sanctified by the blood of Jesus Christ shed on the cross. Ⅰ John 1:7 says The blood of Jesus His Son cleanses us from all sin.
We must not let God's choice go to waste. We must hold on to our faith (Colossians 1:22,23). God has a plan to choose us, sanctify us, and present us without blemish before Him in the last days. But there are things that get in the way of that. 1. temptations of this world. Demas was Paul's co-worker, but he was swept away into the world, separated from Paul, separated from the church, separated from God. 2. disbelief. Where does faith come from? Unfortunately faith usually does not come naturally. Jesus often accused his disciples of their unbelief. Faith begins with hearing and reading the Word of Christ, the Scriptures. And the Word of God strengthens, encourages, and lifts us up.
③ Becoming a child of God
John 1:12 says He gave the right to be children of God to those who received him (Jesus Christ), that is, to those who believed in his name. Galatians 4:6 says that because you are sons, God has sent the Spirit of his Son into our hearts, calling, "Abba, Father." If you are a child, you are an heir by God.
We can pray to God the Father by addressing him as "Heavenly Father". And being a child of God is an heir. Because we are a child of God, we can inherit what Heavenly Father has. We can inherit heavenly blessings and spiritual blessings.
We can see this in the parable of the prodigal son. His father said to older son. " Son, all that is mine is thine. " (Luke 15:31) God bless us with all spiritual blessings in heaven in Jesus Christ (verse 3). Blessed now. Blessed is the future.
Sponsored Link