7 February 2022
John Testifies Again About Jesus
22 After this, Jesus and his disciples went out into the Judean countryside, where he spent some time with them, and baptized. 23 Now John also was baptizing at Aenon near Salim, because there was plenty of water, and people were coming and being baptized. 24 (This was before John was put in prison.) 25 An argument developed between some of John's disciples and a certain Jew over the matter of ceremonial washing. 26 They came to John and said to him, "Rabbi, that man who was with you on the other side of the Jordan—the one you testified about—look, he is baptizing, and everyone is going to him." 27 To this John replied, "A person can receive only what is given them from heaven. 28 You yourselves can testify that I said, 'I am not the Messiah but am sent ahead of him.' 29 The bride belongs to the bridegroom. The friend who attends the bridegroom waits and listens for him, and is full of joy when he hears the bridegroom's voice. That joy is mine, and it is now complete. 30 He must become greater; I must become less." 31 The one who comes from above is above all; the one who is from the earth belongs to the earth, and speaks as one from the earth. The one who comes from heaven is above all. 32 He testifies to what he has seen and heard, but no one accepts his testimony. 33 Whoever has accepted it has certified that God is truthful. 34 For the one whom God has sent speaks the words of God, for God gives the Spirit without limit. 35 The Father loves the Son and has placed everything in his hands. 36 Whoever believes in the Son has eternal life, but whoever rejects the Son will not see life, for God's wrath remains on them. (John 3: 22-36)
Jesus was working to baptize water (verse 22). John the Baptist also baptized the people (verse 23). They both worked the same way.
At that time, John's work was very famous and well known to the people. He was so influential that he seemed to be the Messiah. Many people followed John, baptized by him. But things have changed since the advent of Jesus. Many people were baptized by Jesus, not by John. John's disciples (Andre, John) also moved toward Jesus. A new era had arrived, with John retreating and Jesus appearing.
John's disciples were regrettable and unavoidable. They appeal to John. "Everyone goes to that person" (verse 26) "It will be difficult as it is. We have to do something. Let's think about countermeasures. People who have gone to that person. Let's urgently come up with ideas and discuss how we can get them back. " Various opinions may have come from the disciples.
The disciples were rushed, but John was calm. "You are the witnesses of what I said, 'I am not Christ, but the one sent before that.'" (Verse 28) "This is fine. It's okay. It's okay to have the spotlight on him. I was sent to do this. It's my job to prepare for that path" John replied.
John explains his mission. He said he was like a bridegroom's friend. The groom points to Jesus. The role of the groom's friend was to connect the groom and the bride, to act as an intermediary, and to manage the wedding table. He is an intermediary, a supporting character, and nothing more. The protagonists are the groom and the bride. It was his job to connect Jesus (the bridegroom) with Israel (the bride). His friends were the ones who prepared the way for the wedding, and the role of the friends was that.

"John the Baptist" / Sandro Botticelli (1445-1510) / Renaissance-born Florentine painter
The same is true today. John the Baptist prepared the way of Jesus, but as we live in the present age, we are entrusted with the work of preparing the way of the Second Coming of Jesus. If we try to steal people towards ourselves without associating the "Bride of Christ" church with the "Jesus the Groom", the wedding seats to be blessed will be confused and ruined. .. Unfortunately, there are people in the Christian world who are doing this kind of work. All they are doing is not expanding the kingdom of God, but expanding their kingdom. And it is weakening the work of the Japanese church. It's different from what Jesus taught.
He must become greater; I must become less." (verse 30) "He must be famous and I must be anonymous." "He must be large and I must be small." "He must be prosperous, great, I lose power, weaken," so this is fine, John explained to his disciples. " Make Jesus big, make myself small. " Be careful when we come to the fore, like my work, my ministry, my church. Watch out for such people and ministry. Our work is the work of Jesus, and the church is the church of Jesus Christ.
Perhaps this word of John may be regarded as a negative word in this world. People should get ahead. But I think we must use this attitude and words of John as a guide for living as a Christian and for serving the Lord.
This applies to all services. For example, I preach. Suppose you are told, "It was a good sermon. It was easy to understand." I'm happy to be told this. But in some cases, being told this way can be expensive and make I bigger. However, if you are told, "Jesus is wonderful," after the sermon, we are not making ourselves bigger, but making Jesus bigger.
So is the performance. If you are told, "No, you were good at playing the piano today," I'm happy, but maybe I've taken the glory that God should receive. However, after the performance is over, if you are told, "I was able to meet the invisible Jesus in today's praise," it means that I did not make myself bigger, but made Jesus bigger. " Make Jesus bigger, make myself smaller " This is very important for Christian life.
What kind of person is Jesus? He came from above (verse 31). He is from heaven. He is the one sent by God the Father. So who are we? Those who come out of the earth and those who belong to the earth. However, through the one sent from above, that is, through Jesus Christ, he is said to belong to heaven and to have nationality in heaven. This is our identity.
Whoever believes in the Son has eternal life, but whoever rejects the Son will not see life, for God's wrath remains on them. (verse 36), which is the word of the Bible. We humans have only two options. Life or death, salvation or judgment.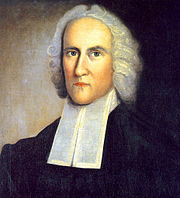 Jonathan Edwards (5 October 1703-22 March 1758) / Widely recognized as America's most important and first philosopher and theologian. He is also known as the leader, preacher, and recorder of the Great Awakening Revival.
A great revival took place in America in the 18th century. The central figure was Jonathan Edwards. One of the most famous sermons in the history of sermons, "The Sinner in the Hands of the Angry God." He told a large crowd. "Those who are away from Christ are hanging above hell. Please be aware that now, old people, you do not realize that you are under the wrath of God. Children, know that even children cannot escape the wrath of God, but if you do not leave Christ, those who accept Christ's testimony are already freed from that wrath, rather forever. You live in life. "
Through the cross and resurrection of Jesus, we are forgiven of our sins, reborn, made children of God, and given eternal life. Let us pray and act to make this wonderful Savior Jesus Christ more and more prosperous and famous in the world and in Japan.
Sponsored Link