Shepherds were commonplace in everyday life in Israel at the time. It was the shepherds who celebrated the birth of Jesus. The same is true in the Old Testament. The Abraham family was a shepherd, and Moses was a shepherd in the wilderness for 40 years. The boy David was also a shepherd. Furthermore, God himself was a shepherd.
In the Old Testament, God is often compared to a shepherd, and the Israelites are depicted as a flock of sheep. Moses' account of Exodus appears in Psalm 78:52. But God took his people out like a flock of sheep and in the wilderness like a flock of livestock.
And it is inherited in the New Testament. Jesus was a shepherd. We humans are sheep. At Matthew 9:36 it is written Jesus saw the crowd and felt sorry for them, who were weakened and fallen like sheep without a shepherd.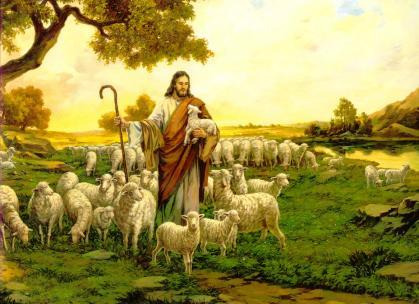 Everyone needs a shepherd and a guide. The question is who will lead us. If we are led by the wrong bad shepherd, we will be taken to the wrong place. The Bible says:
The Good Shepherd and His Sheep
10 "Very truly I tell you Pharisees, anyone who does not enter the sheep pen by the gate, but climbs in by some other way, is a thief and a robber. 2 The one who enters by the gate is the shepherd of the sheep. 3 The gatekeeper opens the gate for him, and the sheep listen to his voice. He calls his own sheep by name and leads them out. 4 When he has brought out all his own, he goes on ahead of them, and his sheep follow him because they know his voice. 5 But they will never follow a stranger; in fact, they will run away from him because they do not recognize a stranger's voice." 6 Jesus used this figure of speech, but the Pharisees did not understand what he was telling them. 7 Therefore Jesus said again, "Very truly I tell you, I am the gate for the sheep. 8 All who have come before me are thieves and robbers, but the sheep have not listened to them. 9 I am the gate; whoever enters through me will be saved.[a] They will come in and go out, and find pasture. 10 The thief comes only to steal and kill and destroy; I have come that they may have life, and have it to the full. 11 "I am the good shepherd. The good shepherd lays down his life for the sheep. 12 The hired hand is not the shepherd and does not own the sheep. So when he sees the wolf coming, he abandons the sheep and runs away. Then the wolf attacks the flock and scatters it. 13 The man runs away because he is a hired hand and cares nothing for the sheep. 14 "I am the good shepherd; I know my sheep and my sheep know me— 15 just as the Father knows me and I know the Father—and I lay down my life for the sheep. 16 I have other sheep that are not of this sheep pen. I must bring them also. They too will listen to my voice, and there shall be one flock and one shepherd. 17 The reason my Father loves me is that I lay down my life—only to take it up again. 18 No one takes it from me, but I lay it down of my own accord. I have authority to lay it down and authority to take it up again. This command I received from my Father." (John 10: 1-18)
Jesus is not just a shepherd, but a "good" shepherd. I would like to look at three points about how "good".
① Remember our name and call us(verse 3).
Every sheep may look the same when we see it, but the shepherd seems to know which one. I don't think shepherds are very familiar to Japanese people, but when I was driving in New Zealand, I sometimes came across a flock of sheep. The shepherd is leading the sheep and crosses the road. I waited for them to cross over for about 10 minutes.
He (Jesus) calls his sheep by that name and takes them out (verse 3). He takes all his sheep out and takes the lead. Then the sheep knows the voice and follows him (verse 4). However, it never follows other people. On the contrary, run away from that person. Because they don't know his voice. (Verse 5).
A man named Morton writes about the sights he saw near Bethlehem. "Two shepherds used the cave as a shelter for a flock at night. How could they separate their flock? One shepherd When he made a special call that only his sheep knew, the whole flock ran to him, because the sheep knew the voice well. Never go to anyone else. They can really hear the call of their shepherds. "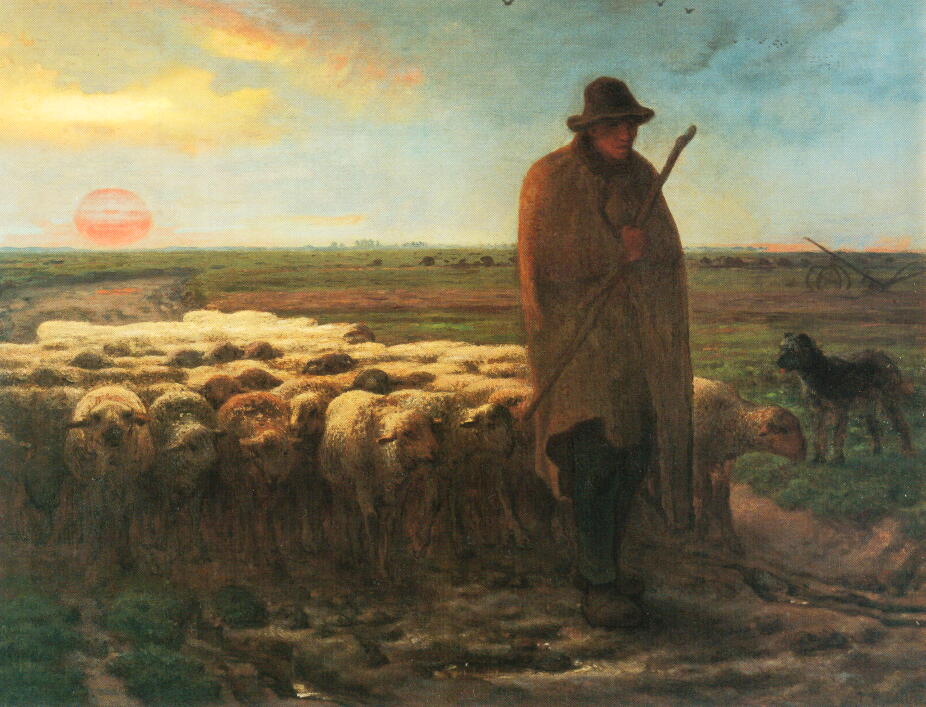 "Shepherds Bringing Sheep Back at Dusk" / Jean-Francois Millet (France) / 1860
Here (verses 14 and 15), "knowing" (Ginoskane) is a word that expresses a deep mutual responsive relationship, not by knowing externally or formally, but by knowing internally and holistically. , Means whole-personal fellowship. Calling a name is not a number, but an intimate relationship of knowing, calling, and responding to a unique person with individuality and uniqueness.
By communing with the shepherd Jesus, we will be able to hear more of Jesus' voice by communicating through the Word and prayer. We will notice the wrong voice. In the last days of the world, insight is required because there are many misleading and wrong bad leaders.
② Throw away life for the sheep (verse 11).
The Pharisees were sheep-eating thieves and false shepherds. I think the apostle John, who wrote the Gospels, also has in mind the pastors and teachers of the church community. At that time, there were many fake teachers and misleaders. Unfortunately, it's exactly the same today, with false teachers and misleading ministers in real-life churches and online. Those who are deceived by them will be taken to the wrong place, territory. It's a robbery, robbing people of their lives.
A good shepherd fights wolves, demons, and fake bad leaders. David also fought to protect his sheep. Jesus is a good shepherd and gives up life for the sheep, for us (verses 11, 15). Jesus came because the sheep (us) have life and have it abundantly (verse 10).
Jesus will save us and find the grass (verse 9). We can get life and have abundant life. We can be saved and grow spiritually. The Lord also prepares grass (daily food) so that sheep (we) can live.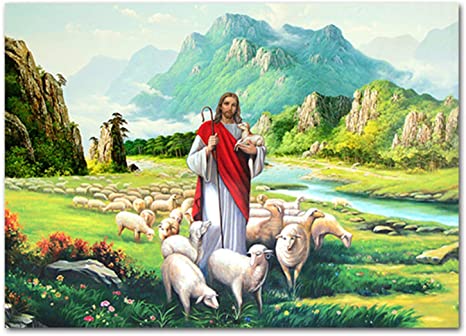 ③ Guide the lost sheep outside the enclosure (verse 16)
Only Jews were inside the pen, and there were sheep outside the pen. It's a Gentile. As we can see in Luke chapter 15, Jesus is looking for a lost sheep.
John Wesley said, "The world is my parish." In reality there are many denominations, but we Christians can be a flock if we follow the voice of Jesus. It is a "holy outline church" with Jesus Christ as the head, confessed in the Apostles' Creed. The aim is not division, but unity.
Jesus, a good shepherd, gives us three things. ① Spiritual fellowship. Salvation, growth, daily food. ② Life, love enough to throw away life. ③ Friends, brothers and sisters.
Finally, I would like to introduce Psalm 23: 1-6.
A psalm of David.
1 The Lord is my shepherd, I lack nothing.
2 He makes me lie down in green pastures,
he leads me beside quiet waters,
3 he refreshes my soul.
He guides me along the right paths
for his name's sake.
4 Even though I walk
through the darkest valley,
I will fear no evil,
for you are with me;
your rod and your staff,
they comfort me.
5 You prepare a table before me
in the presence of my enemies.
You anoint my head with oil;
my cup overflows.
6 Surely your goodness and love will follow me
all the days of my life,
and I will dwell in the house of the Lord
forever.
Sponsored Link




FacebookTwitterLineshareGospel , artJean-Francois Millet , shepherd
Posted by: canaan
I used to be a pastor in the metropolitan area for 10 years, but now I am a pastor at a local Christian church. I also run a travel agency and a farm. I myself have been empowered by various words, and I would like to convey hopeful words.
Post navigation
Your email address will not be published. Columns marked with * are required items
comment
Name *
Email *
site
Save your name, email address, and site in your browser for use in your next comment.
Please enter the characters displayed above.
search:
Recent posts
recent comments
archive
Category
Meta information
© Copyright 2021 the year of the word forceRara Academic |. Developed By Rara Theme . Powered By WordPress .