BYCANAAN
I think that the letter to the Philippians had a strong meaning of gratitude for the donations sent by the Philippian Church through Epaphroditus.
8 Finally, brothers and sisters, whatever is true, whatever is noble, whatever is right, whatever is pure, whatever is lovely, whatever is admirable—if anything is excellent or praiseworthy—think about such things. 9 Whatever you have learned or received or heard from me, or seen in me—put it into practice. And the God of peace will be with you.10 I rejoiced greatly in the Lord that at last you renewed your concern for me. Indeed, you were concerned, but you had no opportunity to show it. 11 I am not saying this because I am in need, for I have learned to be content whatever the circumstances. 12 I know what it is to be in need, and I know what it is to have plenty. I have learned the secret of being content in any and every situation, whether well fed or hungry, whether living in plenty or in want. 13 I can do all this through him who gives me strength.
14 Yet it was good of you to share in my troubles. 15 Moreover, as you Philippians know, in the early days of your acquaintance with the gospel, when I set out from Macedonia, not one church shared with me in the matter of giving and receiving, except you only; 16 for even when I was in Thessalonica, you sent me aid more than once when I was in need. 17 Not that I desire your gifts; what I desire is that more be credited to your account. 18 I have received full payment and have more than enough. I am amply supplied, now that I have received from Epaphroditus the gifts you sent. They are a fragrant offering, an acceptable sacrifice, pleasing to God. 19 And my God will meet all your needs according to the riches of his glory in Christ Jesus. 20 To our God and Father be glory for ever and ever. Amen.
21 Greet all God's people in Christ Jesus. The brothers and sisters who are with me send greetings. 22 All God's people here send you greetings, especially those who belong to Caesar's household.23 The grace of the Lord Jesus Christ be with your spirit. Amen. (Philippians 4:8-23)
The Philippian church was helping Paul in his ministry. The issue of donations is important. Because giving is an expression of faith. Belief in the gospel of Jesus Christ motivates us to want to support the workers in their toil for the gospel to move forward. God's desire is to advance and expand the gospel, so we are grateful from the bottom of our hearts that we have been saved by the Lord's grace, and we want to contribute to the work of the Lord through our dedication.
The church in Saitama where I was pastor was dedicated after I moved to Hokkaido. I was very happy when I received the report. A few years ago, I was invited to the dedication ceremony, and when I saw the chapel, I thanked God from the bottom of my heart. Everyone made sacrifices and gave donations. Why was it possible? Because they wanted the gospel to advance through the church.
The Philippian church supported Paul's ministry from the beginning through donations. But it seems that it was temporarily cut off (verse 10). But the opportunity to dedicate again has been revived.
Even in poverty, Paul had learned to be content in all circumstances (v. 11). He knew the secret to dealing with any situation (v. 12). Paul had triumphed over the problems of life, the problems of the economy. He confesses that through faith in God and through the Lord Jesus Christ who strengthens him, he can do anything, even financial problems (v. 13).
When things are going well, when they have money, their faith is fine. Conversely, in times of adversity, when they have no money, they ask God for help and have faith. Some people turn away from God and the church. Both cases need to be taken care of.
There are good times and bad times in life. Believers need to be able to deal with all these circumstances. We should be able to overcome it by faith that trusts God. That's the life of victory. As we overcome, we can experience God's rich grace.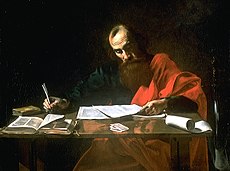 Paul writing
I don't think we can say that true abundance means that there are no difficulties and everything is going smoothly, or that we have a lot of money and we don't have to worry about it. Rather, it is true richness to be able to confess, like the Apostle Paul, "I know the secret to dealing with all circumstances. Through Jesus Christ, who strengthens me, I can do all things." Even though he was in prison, crippled, without money, and in adversity, Paul was content "in the Lord" (v. 11).
The Apostle Paul wrote elsewhere about the dangers of being content with money.
6 But godliness with contentment is great gain. 7 For we brought nothing into the world, and we can take nothing out of it. 8 But if we have food and clothing, we will be content with that. 9 Those who want to get rich fall into temptation and a trap and into many foolish and harmful desires that plunge people into ruin and destruction. (Ⅰ Timothy 6:6-9)
The Lord Jesus also said 19 "Do not store up for yourselves treasures on earth, where moths and vermin destroy, and where thieves break in and steal. 20 But store up for yourselves treasures in heaven, where moths and vermin do not destroy, and where thieves do not break in and steal. 21 For where your treasure is, there your heart will be also.(Matthew 6:19-21)
The Philippian church was a church that shared difficulties with Paul (verse 14). How did they share their difficulties with Paul? Through remembering and praying to Paul, and through offerings. The Philippian Church is mentioned in other letters.
8 And now, brothers and sisters, we want you to know about the grace that God has given the Macedonian churches. 2 In the midst of a very severe trial, their overflowing joy and their extreme poverty welled up in rich generosity. 3 For I testify that they gave as much as they were able, and even beyond their ability. Entirely on their own, 4 they urgently pleaded with us for the privilege of sharing in this service to the Lord's people. 5 And they exceeded our expectations: They gave themselves first of all to the Lord, and then by the will of God also to us. (II Corinthians 8:1-5)
The Jerusalem church was in financial trouble, partly because of the famine. Paul heard of the situation in the Jerusalem church and called for donations. At that time, the Macedonian churches such as Philippi and Thessalonians responded to him.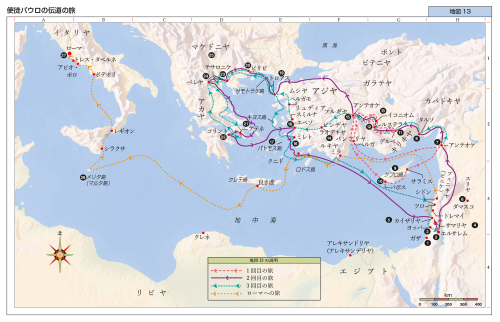 The Philippian Church sent Epaphroditus to Paul to deliver the offering. The offering was given to Paul, but it became a gift that God was willing to accept (v. 18). Since Paul was working for the glory of God and for the advancement of the gospel, the offering given to Paul was an offering to God. What we give to the church is likewise given to God. Offerings are an important part of worship. In worship, we give praise and thanksgiving to God, offer prayers, hear and respond to God's Word, and offer offerings. Everything is important and becomes a worship and offering to God. Anything missing would be inadequate. Donations are not made to people, nor are they made to churches. It is done to God.
Like the Church of Philippi, God will meet the needs of God's children who put Him first with "riches of glory" (v. 19). The Lord Jesus also taught in the Sermon on the Mount. Seek first the kingdom of God and his righteousness. Then, in addition, all these things will be given to you (Matthew 6:33).
God has the riches of glory. I don't think it's just economic. The Lord gives us spiritual blessings, peace of mind, and the necessities of life. How is it possible to partake of such blessings? Because we believe in the Lord Jesus and are made children of God.
4:6 And because you are sons, God has sent the Spirit of his Son into our hearts, crying, "Abba, Father." 4:7 So you are no longer slaves, but sons. If you are a child, you are an heir by God. (Galatians 4:6,7) As children of God, we are made heirs. As children of God, we can inherit the blessings of God the Father. What an amazing blessing!
God will meet the needs of each one of us and the finances of the church with the "riches of glory", the blessings that are in heaven. So that the glory of God may be revealed, the gospel may be spread forward, and the poor may be helped. Let us become a dedicated church (each of us) like the Church of Philippi and contribute to the advancement of the kingdom of God.
Sponsored Link